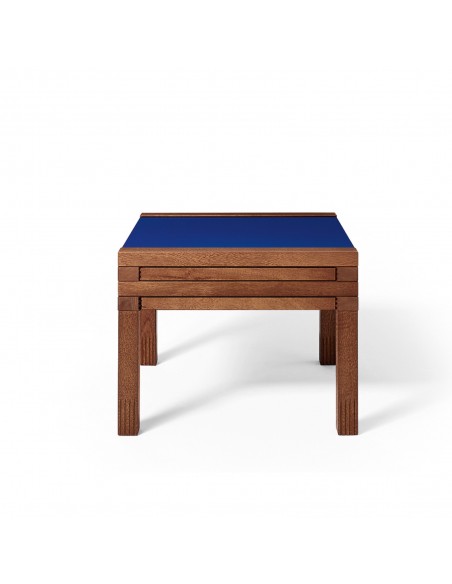 *MiniPar4, with dimensions of 52.5 x 52.5 cm and a height of 40 cm, is the Par4's smaller and lighter brother. Solid wood frame with 4 (fully extendable) table tops. When pushed together at the same height, the table top doubles in size to 52.5 x 105 cm. One side of the table tops is covered with coloured laminate and the other side with lacquered real wood veneer, corresponding to the chosen wood type of the frame. The 4 table tops are flat on both sides, without raised wooden edges. A sample table is on display in the shop.
The MiniPar4 can be ordered online here in predefined colour combinations.
It is also possible to combine the table tops in different colours (also on both sides) and wood types according to your wishes. We will be happy to assist you in our shop or send us a message via the "We will be happy to assist you" button. 
For more information, see the description below.
 

Subscribe To When In Stock

Subscribe To When In Stock

We'll slide into your inbox when the product is back in stock.

You have successfully subscribed to this product

 
 
*Tetra, Par4, MiniPar4 and Par3 side tables were designed by French designer Bernard Vuarnesson. Throughout his career, the engineer has created many timeless, modular pieces of furniture that can be easily adapted in form and function.
MiniPar4 is representative of Vuarnesson's creative and playful approach. The side table is a young classic that, thanks to its elegant and simple design, fits naturally into a wide variety of living situations. 
The beautiful choice of colours and woods makes it possible to create your own personal table.
Holzmuster
Farbpalette